Down to Earth with Begonias
By Peter Sharp – Former advisor to the Royal Botanic Gardens, Sydney.
What a read! If you want to know anything about growing begonias in the garden, patio or shade house then this is the book for you. It covers so many aspects on how to grow begonias one does not know where to start. Peter Sharp has a wonderful way with words and you will find this book not only informative but also very enjoyable just to read. He covers such areas as historical telling about the early discoveries and something of the spreading of begonias across much of the globe, types of begonias, preparation and planting, choosing the right begonia for your site, care and propagation, The list goes on!
This book is a must in all begoniacs' libraries.
---
Begonias
by Mike Stevens.
This book is written by Mike Stevens from Christchurch, New Zealand.
It includes subjects such as: history and key discoveries, culture of non-tuberous begonias, cultivation of tuberous begonias, basket begonias, pests, diseases and disorders, fertilisers and soils, watering, propagation, creating your own hybrids. Mike's book is published by Lothian Books and is available for A$ 29.95. Aust ISBN 1865344964.
This book might be available through Amazon.com.
---
Growing Begonias
by Peter Sharp.
This book is written by Peter Sharp a well known and respected grower in New South Wales, Australia. This is a useful guide to growing a wide range of begonia types.
This book is now out of print. Copies occasionally come up for sale at Amazon.com and on Ebay.
---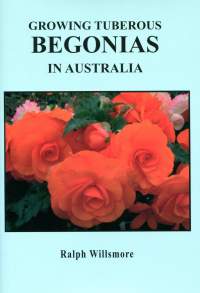 Growing Tuberous Begonias In Australia
by Ralph Willsmore.
Another excellent book for the tuberous grower. 
A new edition (2017) is now available for $10Aust. plus $2Aust postage in Australia.
 Elsewhere add $5Aust. for postage.  Contact noel.harvey6@bigpond.com  for details.
---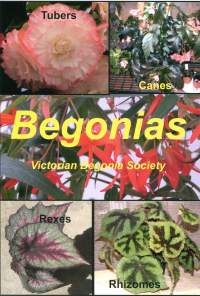 Begonias
Small 20 page booklet of photos and care instructions of various forms of begonias including tuberous, cane-like, rhizomes and rexes. Available from Victorian Begonia Society for $5 plus postage ($2 in Australia).  Contact noel.harvey6@bigpond.com for details.
---
Begonias of Peninsular Malaysia
by Dr. Ruth Kiew
This book is written to interest the naturist and gardener in the wealth of wild begonias that grow in rain forest but without sacrificing scientific accuracy.  The profusion of photographs, watercolour paintings and botanical drawings, and the minimum use of technical jargon intend to make this book accessible to all.  This book is comprehensive including 52 native species as well as two garden escapes.  Twelve new species and one variety are described here for the first time.  The author is Dr. Ruth Kiew who is currently Keeper of the Herbarium and Library and Assistant Director of Botanical Research in the Singapore Botanic Gardens.
Publisher:  Natural History Publications (Borneo) in association with Singapore Botanic Gardens and National Parks Board.
First Published:  1 February, 2005.
Pages: 308pp.
For more details or to purchase go to www.nhpborneo.com and click "Publications".
---
Begonias – Cultivation, Identification and Natural History.
by Dr. Mark C. Tebbitt in conjunction with Brooklyn Botanic Garden
Published by Timber Press 2005.
336 pages: 212 Colour photos: 104 Line drawings.
Dr, Mark Tebbitt is a botanist at Brooklyn Botanic Garden, where he manages a research program on the systematics of cultivated ornamental plants, with a special emphasis on Begonias. The book contains concise descriptions, keys, and elegant illustrations of more than 300 commonly grown species and their popular cultivators.  Additional chapters cover their cultural history, cultivation, natural history, and distribution.
---
Growing Begonias in Victoria
This book was produced through the combined effort of many members of the N.S.W. Begonia Society Inc. and has been amended to suit growing conditions in Victoria.
No longer readily available.
---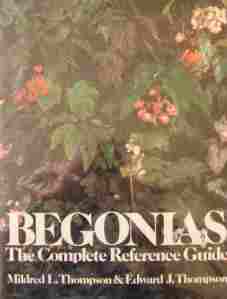 Begonias: The Complete Reference Guide
Mildred & Edward Thompson
Published by Times Books. 1981
Covers in vast detail the culture, classification and history of Begonias. Provides information on every known species and cultivar up to the time of publication. Often referred to as "The Bible" for Begonia growers.
Out of print but second hand copies are still available through such outlets as www.amazon.com.
---
Brad's Begonia World
Many of the photos in a new begonia book compiled by Wendy Corby of the ABS called "Brad's Begonia World" were – taken from the IDB highlighting the usefulness of this great resource. This soft cover book is a great begonia read with lots of tips on the where with all of   begonia growing together with many photos all on glossy paper. The book is available from the ABS shop.
Author: Brad Thompson, compiled by Wendy Corby, 2015, 189 colour pages with photographs, published through the ABS's Thelma O'Reilly Reprint Fund.
The first section is on the different types of begonias. The second section is on the growing and care of begonias. The book is a wonderful set of articles to provide begonia enthusiasts with information.
$35.00 (includes shipping. International Orders $55.00 )
---
'Understanding Begonia'   by Samuel Kennedy
   This is now published and will be available for sale in the ABS shop for $30US. it is worded for all members but especially new members giving you a short history of where the plants come from, the research and development that has been carried out in the past, where that development is today.  The book describes the root systems, stems, leaves and flowers of the species and rhizomatous types and how to take cuttings in all their forms and then grow them into exhibition quality plants. Tuberous species follows, and from there onward into garden bedding varieties and pendula types saving the best for last, the Tuberhybrida or large flowered doubles
Copyright protection applies to all articles, graphics and photographs on this website.
The rights belong to the people acknowledged or the Victorian Begonia Society Incorporated. © 2013